Dear friends and family,
Merry Christmas and happy holidays! As I pause and reflect upon the past year I hope this note finds you happy and healthy.
(
More Lick Brook Falls Hike Pictures
)
Gretchen and I are doing very well, and have had a very eventful year. We have made progress with our studies and research, and have had lots of good visits with friends and family. However, as I pause to think about all the day-to-day events that have somehow already turned into another year, it is clear that the arrival of Eli is the most significant thing for our family this year.

At the beginning of this year, we were still taking classes to prepare for childbirth. Now, somehow, we're already experiencing the day-to-day wonder and excitement of getting to know our now 9-month old son. Eli is happy, healthy, and curious, and we feel very lucky to welcome him to our family. Since Eli was born, time has flown by, and the events of last January and February seem so long ago that it's hard to believe that they happened this year. Still, almost each month had an adventure of some sort that we'd like to share, so perhaps it's best to summarize the year with pictures:
January highlights included prenatal education and our now-traditional trip to stay with friends at the Falls Brook Yurts. Gretchen was on snowshoes this year. She says it's Ben's turn to carry Eli in 2012 so she can have her turn on skis.
In February, prenatal education continued with mounting intensity. We put the finishing touches on Eli's bedroom. Ben got out for a day of ice climbing, but Gretchen elected to stay at home for some reason.
Everything changed in mid-March, when Eli was born. We were very happy that Tom and Kristy (Gretchen's parents) were able to come to Ithaca to help welcome him (and help us adjust to this new parenting lifestyle!)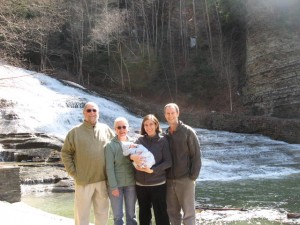 By May, after additional family visits, it was time to hit the road with Eli, so we went to Seattle to visit Tom and Kristy. Eli was a champ, and the trip went smoothly. We were very happy to introduce Eli to a lot of our friends in the Northwest. Coincidentally, it happened to be the weekend of our college reunion, so we headed down to Tacoma and stopped by the house where we all lived during our senior year.
(
More Pictures from Seattle
)
The arrival of summer meant more outside fun for our family – there are lots of neat hikes, swims, and events in the Finger Lakes, and Gretchen and I are hoping to finish our degrees soon, so we may be moving away before many more summers.
(
Many
more
pictures
of
summer
adventures
)
July also meant a Heavner get-together in Eastern Maryland. It was hot, but a good time to get together and hang out!
In August, we capped off a successful summer with a welcomed visit from Kristy while Gretchen completed her annual swim across the lake for Women Swimmin'.
September included a very special visit to GG – Gretchen's grandmother (and Eli's great grandmother – thus the name) in LaCrosse, WI. In addition to lots of fun hanging out with Kristy's family (and seeing the spectacle of OctoberFest!), it was quite a treat to be the photographer for this 4-generation picture:
(
More Pictures from the Midwest
)
October brought a drive to visit our friends Micah and Kate in Burlington (complete with a chilly drive and hike to the top of Mt. Mansfield!), and a pretty awesome lion costume for Eli.
In November, Gretchen and Eli headed north to Montreal with Annie to visit our friends Gabi and Camilla. They were pleased to report a wonderful visit catching up with friends and exploring a fun city.
Which brings us to this month, which we're filling with travel for family visits. As I write, I'm sitting in the living room of our family home in Lubbock Texas, and look forward to our next hop, back to Seattle for Christmas. Along the way, Eli has had his first visit with Santa, which seemed to go well.
Looking back at this letter, it becomes a bit more clear to me how the year has gone by so quickly. Though I've highlighted our trips and weekend adventures, we've also had weekdays full of work and transitions. Eli is enjoying his day care, where among other things, he had the chance to participate in a study of infant mobility. Physical Therapy students at Ithaca are developing a robot which may enable infants who can't move on their own to explore. Eli helped out as a test subject. His job was to sit on top of the robot and lean towards objects he wanted. The robot sensed his leaning (using a wii balance board), and carried him in the direction he wanted to go. It was lots of fun for the students and for Eli!
We're obviously not very good at frequently updating this blog, but if you're interested in seeing more of what we've been up to, we upload a lot of pictures to our gallery. Please feel free to have a look around. And let us know how you're doing, too!
As you can tell, it's been a very satisfying year. Although we're anxious about all the work we need to do next spring, the main thing Gretchen and I feel is very lucky and grateful. I'm sure our next year will be full, too. Among other things, we're hoping to help Eli figure solid food out a little better than his early efforts!
With lots of love and wishes for a happy new year,
Gretchen, Ben, and Eli